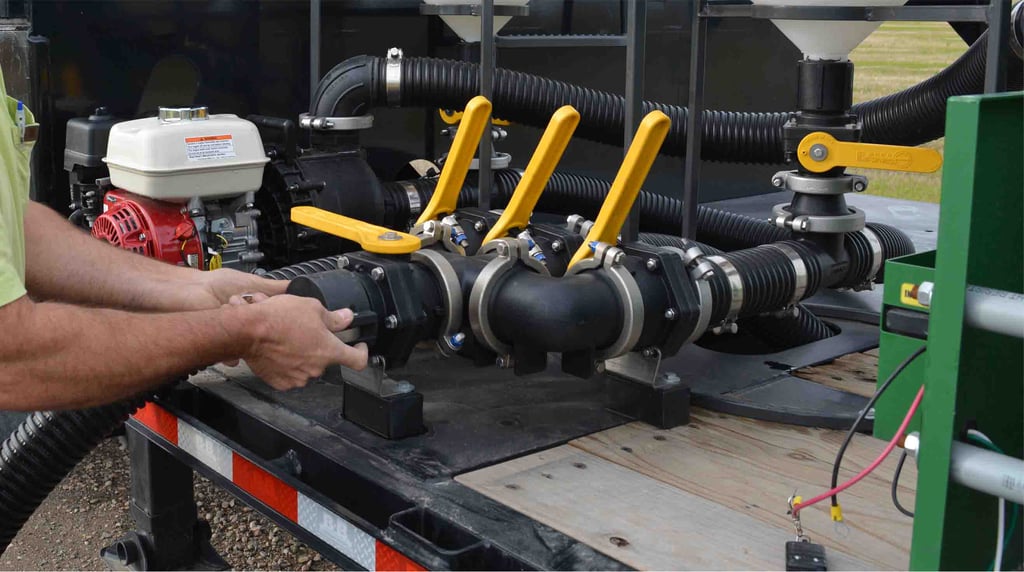 The main reason farmers that do a lot of crop spraying build a tender tank trailer, is to be more efficient. In most areas of the country, the window of time for spraying can be short, so time means everything. Improving your bottom line by working smarter can make a huge difference. We often get asked by many growers to help them build their spray tender trailer. After working with many types of customer, we have learnt a lot. To give you some ideas and inspiration, I decided to put together a quick reference guide that includes some must-haves on a tender tank trailer.
6 Must-haves on a Tender Tank Trailer
2" or 3" Banjo

®

pump powered by a Honda

®

engine - Having a good quality pump and engine is a must to ensure there is no failure when you're in the field. These engines are available with electric and manual start.
Algae resistant leg tanks - Many people try crazy things to keep algae out of their tanks. An easy fix to this is to purchase a black tank made with Solid Color poly. These pin mount horizontal leg tanks have been tried and tested and do keep algae out.
Plenty deck space for a chemical tote and bag/box products - You can never have enough space on your deck. It will make a difference if you have all your plumbing under your deck. This keeps the hoses out of the way.
A step ladder - This component is another feature that helps you save time. A ladder will allow you to access the deck of the trailer without injuring yourself. Dad will like it too.
Chemical mixing system - This is a popular component that is used to mix your chemical with the water in your horizontal tanks. This mixing system with fork-able points can be loaded onto your trailer and secured easily. This allows you to add many types of chemical before the water enters your sprayer. It speeds up refilling and allows you to get more acres sprayed in a day.

Get more Acres Sprayed in a Day!
View the NEW Swift Blender™ here >


Truly a must-have!
An electric reel - There is no need to wrestle with those heavy hoses full of liquid. An electric reel is a very popular component because it saves time and energy on such a menial task.
Why this Tank Doesn't Need Hoops or Bands:
Questions you must ask yourself before you begin set-up:
There are a few questions we ask when we help farmers set up their tender tank trailer. These questions will quickly identify how you will be using your trailer and how it should be set up.
What will you be using your spray tender trailer for? - This will determine what accessories or add-ons you need. Knowing how you want to mix chemical and how you want to load your tanks with liquid, will help a lot.
How much liquid will you need to haul? - This will decide on what size horizontal leg tanks you will need. We can then figure out weight restrictions and DOT laws in your state.
What else will you need to put on your semi-trailer? - This is key. You don't want to take up much room on your trailer deck if you need to put other things on there like chemical totes.
An example of a Tender Tank Trailer we built for one of our customers:
As explained above, there are many ways to set up your spray tender trailer. That being said, there are a few add-on items that you must consider that will make you more efficient. I hope this guide has given you some good ideas and inspiration to make your spraying operation more enjoyable.