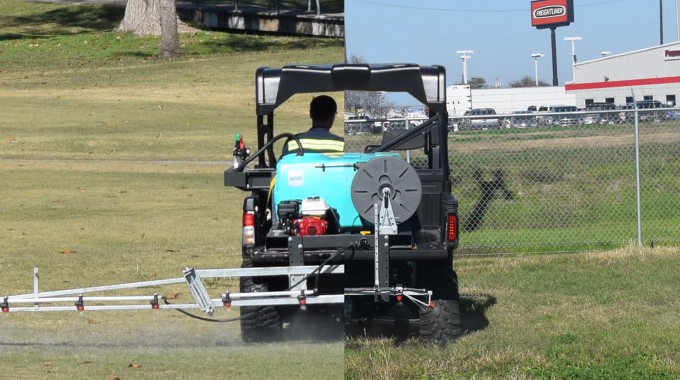 What good is a sprayer if you've got no way to apply the chemical? You could have the best sprayer on the market, but with no sprayer attachment, it won't do you much good. Having spray booms that offer versatile, precise application will enable you to quickly and accurately apply your chemical and get the job done right. In this article, you will find information on 5 sprayer attachments that will improve your spraying efficiencies.
5 Must-Have Sprayer Attachments:
Steel Boom - The steel boom is our most popular sprayer attachment. It comes in various sizes, including 12', 20', 26', and 30' widths. The strategic nozzle placement eliminates the threat of broken spray tips. Also, the spring loaded wings can take a hit from any obstacle and swing back into place and you never have to leave your seat! The interlocking spray pattern from the 0.2 gpm nozzles ensures that you get full coverage on the first pass. When you are finished spraying, the wings fold back and lock in place with the built-in lock pin.
Poly Boom - The poly boom is the market leader when it comes to durability and performance.... not to mention style! These sleek spray booms will keep the weeds down and keep your neighbors talking. They are available in 12', 20', 26', and 30' widths and use spring loaded wings for maximum durability. The 360 degree nozzle protection prevents damage to the spray nozzles from the front or the rear. These booms also come standard with 0.2 gpm T-Jet spray tips with 20 inch spacing for full coverage.
Versatile Boom - The versatile boom is designed for situations where you're short on space, but want the performance of a large spray boom and variable spray patterns. This sprayer attachment has a total width of 4 feet, but a spray pattern that covers a 16 foot swath! The spray pattern is made up of five nozzles, a 4 gpm spray nozzle on each end and three 2 gpm spray nozzles in the center. The boom is equipped with in-line shutoff valves to the nozzles that allow you to spray with 7 different patterns! This valuable feature earned this boom its name... versatile. No matter what the situation, the versatile boom will deliver precise, accurate coverage wherever you need it.
Boomless Nozzles Kit - There are some situation where a traditional spray boom just can't get the job done. In areas with rough terrain or a lot of undergrowth, you need something that is agile and compact, but will still get the job done. That is why we also carry this sprayer attachment. These simple yet effective spray nozzles can bolt onto nearly any sprayer on the market, and make your sprayer even more usable. They are available in two sizes: the single nozzle 24', and the dual nozzle 30'. The 30, boomless nozzle has the ability to shut off each side separately, enabling you to do roadside spraying and other applications where avoiding over spray is essential.
Receiver Hitch - Not all sprayers come with mounts to attach your sprayer attachments to them.... which isn't a problem because we have the answer! The receiver hitch mount, available in 1 1/4" and 2", is built to adapt to any spray boom we offer. This way, you can use a full-size boom on your ATV, UTV, or pickup.... with any sprayer!
Deciding what sprayer attachment is the best for your application can be challenging. I hope this helps you make a better decision now you know what works best where. Once you have chosen the right attachment, you must choose the right spraying nozzles.