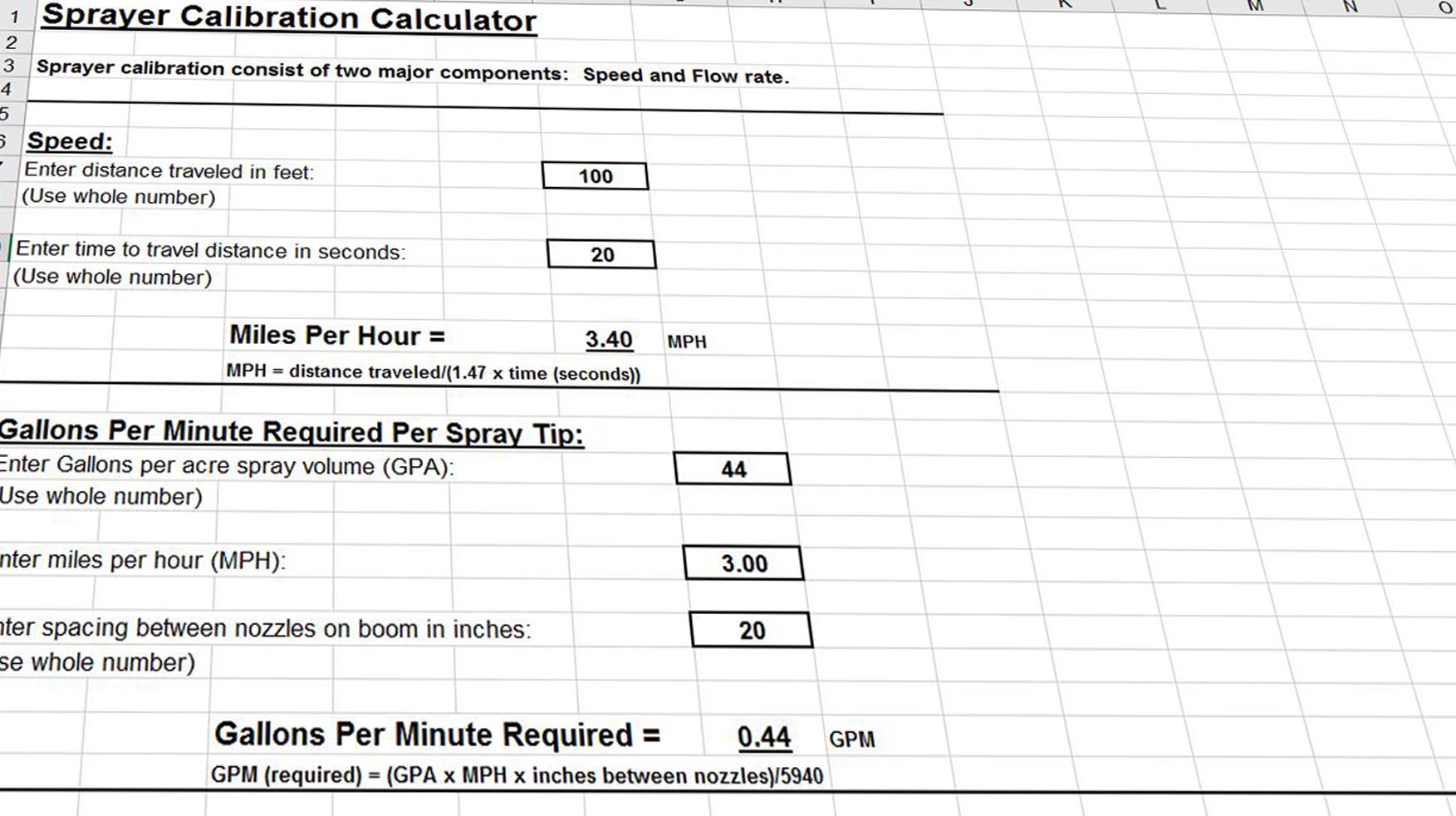 Calibrating a sprayer is mostly neglected because it seems too hard. This can be true when you don't have the right tools. When I first calibrated a sprayer, the first thing I did was googled 'how to calibrate a sprayer'. I noticed very quickly that a lot of people had written about this but it was extremely hard to find a simple process. That's when I set out to find the best apps, calculators and worksheets so nobody else has to research as much as I did. I chose four of the best tools I have seen that will make calibrating a sprayer very simple.
The 4 Best Apps, Calculators and Worksheets for Calibrating a Sprayer:
Before You Start: Watch this video to get a basic understanding of how to calibrate a sprayer.
Click here to see an 8-step guide.

1) App:
University of South Carolina
I put this as number one because it is probably my favorite. It is very simple to use and doesn't take up much room on your phone. An awesome on-the-go solution.
How to use the University of South Carolina app:
Choose your sprayer type. Choose between broadcast or banded.
Select your nozzle spacing in inches
Enter the speed you will be traveling when you spray in miles/hour.
Enter the amount of seconds you need to catch your liquid.
Choose whether you want to calculate volume/area or catch/nozzle.
If you want to calculate the amount of chemical you need to apply, you will then have to add how much liquid you caught per nozzle.
Click calculate and you will get an accurate gallons/acre rate.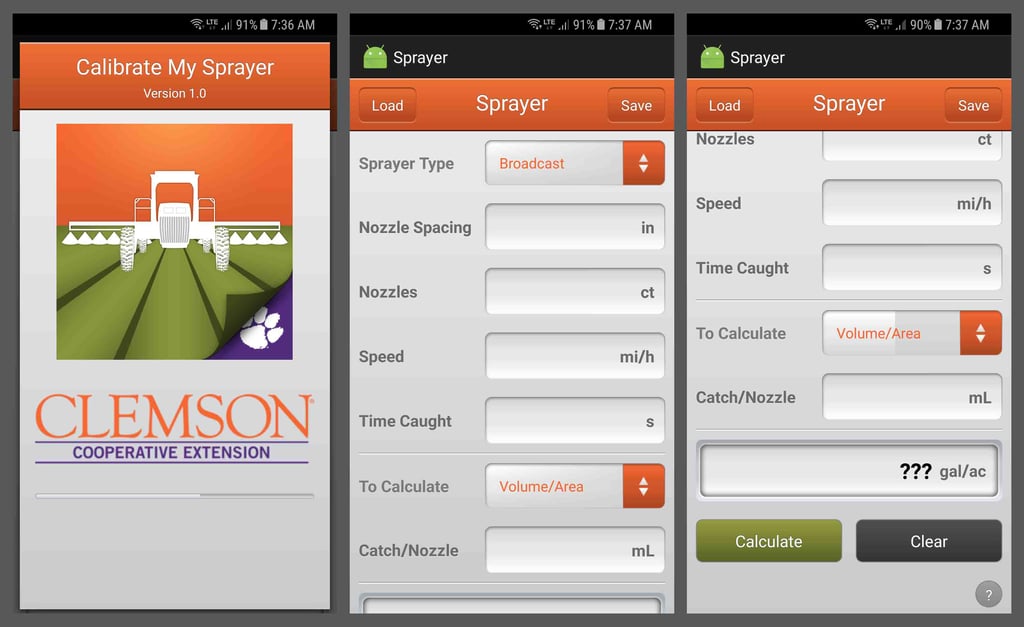 Source: University South Carolina
2) Calculator: TeeJet®
This calculator is best used on your desktop computer and not your mobile. It is a small download that is extremely easy to use. At any time in the calculation process you can start over by clicking one button.
How to use the TeeJet® calculator:
When it is downloaded, click on the folder and open the file called 'Spray Calc (Windows)'.
Select your units of measure. US or Metric.
Choose the type of spraying you will be doing. Broadcast, boomless or directed.
Select the variable to solve for. Nozzle flow rate, sprayer speed, application rate or nozzle spacing.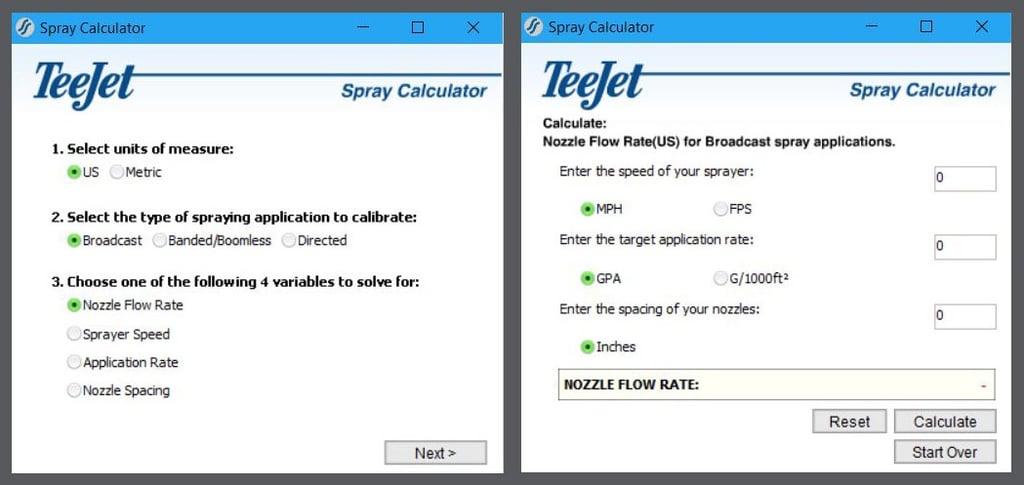 Source: TeeJet®
3) Calculator: University of Missouri
This calibration calculator is a download in excel format and is best used on a desktop computer or tablet. It is structured a little different to the usual calculator but is well thought out. It took me a little time to understand it at first but once you understand what each calculation means, it's simple.
How to use the University of Missouri calculator:
Click here to download and open the file. You will need access to Microsoft Excel.
Enter speed calculations; your distance traveled and the time it took. This will give you your miles/hour.
Calculate gallons per minute required per spray tip.
Measure flow rate in gallons per minute.
Use these calculations to figure out the amount of liquid to collect per specified time (seconds) and gallons per minute.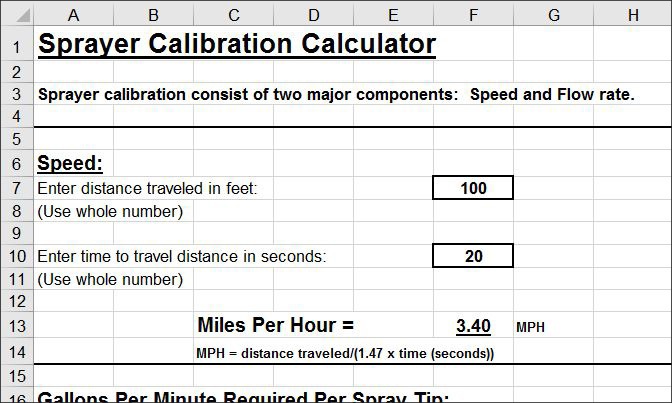 Source: University of Missouri
4) Worksheet: University of Wisconsin
This worksheet is broken up into 3 parts. Checking speed, checking spray rate and correcting the spray rate. It is best if you print this worksheet off as it does not allow you to input data. You will also need a calculator.
How to use the University of Wisconsin worksheet:
After reading the 'check speed' explanation, use the calculation to check your miles/hour. This worksheet allows you to travel the distance twice and divide it by 2 to ensure accuracy.
Find your desired spray rate or gallons per minute. There is a simple calculation on this worksheet to do this.
Use the given formula to convert gallons per minute to ounces per minute.
Convert minutes to seconds.
Use the 2 above calculations to calculate ounces needed to collect.
Check your spray rate. This worksheet has some great tables to enter your data.
Compare your actual data with the desired calculation.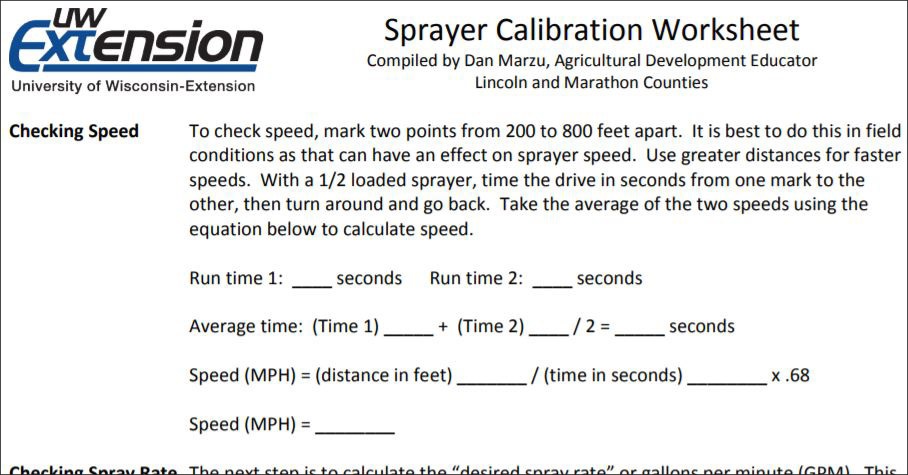 Source: University of Wisconsin
I trust you will find at least one of these 4 tools helpful when you are trying to calibrate your sprayer. Keeping your calculations accurate is important when you are working with spray chemical. Too much or too little chemical can cost you a lot of time and money. If you want to read a quick 8-step guide on how to quickly calibrate your sprayer, click the button below.