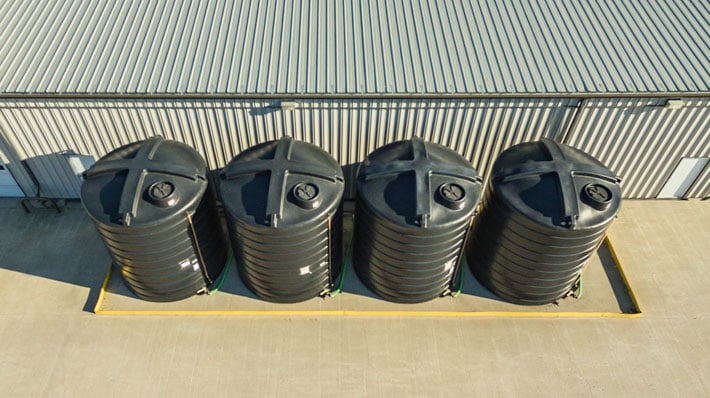 When you're storing water or expensive chemicals like fertilizer, it is a big investment. You need to make sure your liquid is safe, and also ready for you when you need it. Nobody wants to be "that person" that lost the liquid he had bought because something went wrong. Here are some points I have gathered to help you choose the right poly vertical storage tank.
6 Must-Haves on a Vertical Storage Tank
Here are the top features to look for in a high-quality vertical storage tank. If the tank you purchase has these features, you'll be in good stead for the season.
THICK-WALL™ Design: Extra-thick walls provide unmatched strength and durability.

STRONG-X™ Roof Design:

The beefed-up roof structure with molded-in truss-like supports eliminates collapsing in extreme weather conditions.



RIBBED-WALL™ Structure: The ribs act like belts around the tank keeping it in shape. This reduces bulging.

ROTO-MOLD, Single-Piece Construction: When cooked and cooled at an even rate, the raw material is bonded together to make this tank virtually indestructible. Rotationally-molded in a single mold means the tank is seamless, water-tight and leak-proof.

10-Year Warranty: This is basic, but important. Make sure you're covered when storing expensive liquid.

ANCHOR-POINT™ Lugs:

Four hefty built-in lifting and tie-down points at each corner make it easy to handle.



Other Items to Consider for Your Liquid Storage Tank:
LIGHT-BLOCK™ Technology: A tank that keeps sunlight out of the tank will stop algae from growing inside the tank. This is a huge benefit in preserving the quality and use-ability of your water.
Sight Glass Kit: Being able to quickly see how much liquid you have left in your storage tank is a very handy add-on to get with your tank.
Cone Bottom Tank: Choosing a cone bottom tank will enable you to drain your tanks 100% when switching liquids.
Helpful Content: Liquid Storage: Cone Bottom Tanks vs Flat Bottom Tanks
Related: SUV vs. Vertical Storage Tank
If your vertical storage tank has these top 6 features, you'll have a robust storage solution for your liquid that will keep you moving in season and avoid down-time. I trust you have found this buyer's guide beneficial to help you through the purchasing process. If you have any questions, comment below and I will help out.
I trust you have found this post helpful. For more helpful info about sprayers and spraying, visit our YouTube channel or subscribe to our blog at the bottom of the page. To shop our variety of fertilizer storage tanks, visit our website. You also can find your local dealer on our website.