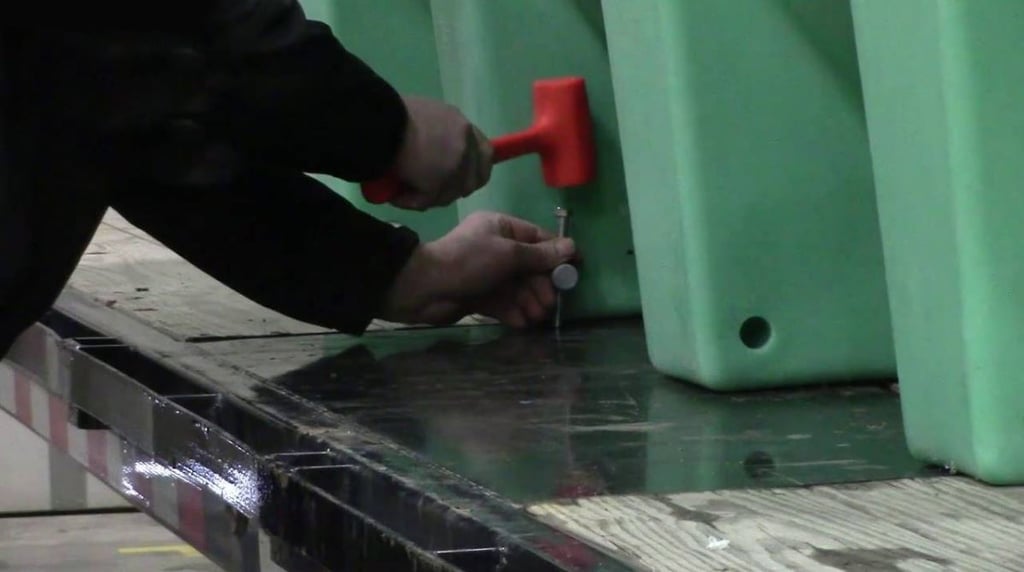 Mounting a horizontal leg tank can be complicated if you don't have the right tools. This guide will show you the best method to save you as much time as possible. If you don't mount your tank correctly on your trailer bed, safety can be an issue. Because these tanks are transporting heavy liquid, the mounting pins on the tanks take all the stress. That's why we need to make sure you do it properly.
How to mount your Horizontal Leg Tank on your Truck or Trailer bed
Here is a quick guide to help you mount your leg tank on your mounting surface. We have also completed a video to help you visualize each point. This video will explain what tools you need to save you as much time as possible.
Put the tank on your mounting surface - Safely lower your leg tank onto your trailer or truck bed. This will allow you to mark exactly where you want to put your leg tank.
Mark the tank mounting holes - When the tank is in the right position, put the pins through each leg and insert the bolts through the pins. You can then use a hammer to strike each bolt. This will put a small dint on the trailer bed showing you where to drill each hole. Make sure each bolt is going through a steel cross beam and not just wood.
Remove the tank from the mounting surface - Remove the tank so you can start drilling each hole.
Drill the mounting holes - Begin drilling all the holes that you previously marked by striking each bolt. Each leg on the tank should have 2 holes next to it.
Remove any shavings - To eliminate any punctures in the tank, remove all the shavings from your truck or trailer bed. This can be done with a broom or air if you have it nearby.
Place the tank back on your mounting surface - When your mounting surface is clean, lower the tank back onto your truck or trailer bed and begin the mounting process.
Insert the tank pins and bolts - Insert a pin into each tank leg and but the bolds through each hole in the bin. Use washers on each end of the bolt. Wind on the nuts and begin tightening.
Tighten all nuts - Tighten all the nuts until the pins are pulling extremely tight on each tank leg.
You are now ready to use your horizontal tank leg. Another popular question that gets asked is how often do I need to tighten these bolts.
Does this Mounting System need Maintenance?
This mounting system with pins is maintenance free. Unlike hoops or bands on regular horizontal leg tanks, these pins do not come loose when the tank expands and contracts. The Pin Mount™ system is the safest mounting system on the market. That's because it has double the amount of mounting points than any other tank.