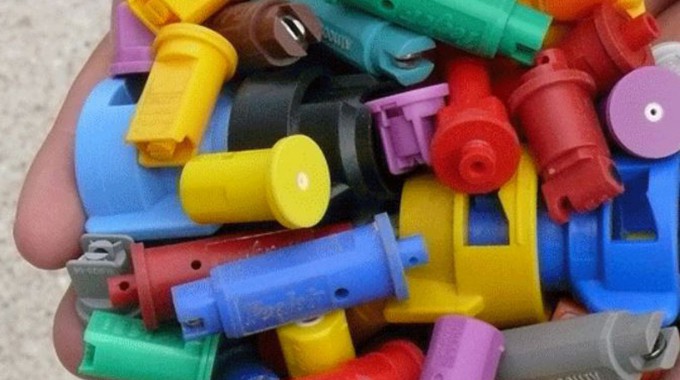 Although spray nozzles are a small and often inexpensive part of your spray boom, it is critical to use the correct spray nozzle for your application. This is very important in order to eliminate drift and apply the correct amount of chemical to your yard or field. I have located 3 excellent sources that will help you to calculate which spray nozzles are right for you.
Watch This Video to Learn About Spray Nozzles
In this video, you will get expert advice that helped me understand how important it is to choose the right nozzles. Remember, every dollar you spend on chemical will be going through a spray nozzle. That's why it is so important to apply the chemical correctly, through the right nozzle.
3 Ways to Choose the Right Nozzles
Teejet Mobile App - The Teejet mobile app is a quick and easy way to find the right spray nozzle. Based on speed, psi, and the nozzle spacing, you can calculate how much liquid you will apply per acre. Once you know this, you can choose the nozzle that best fits your application. The mobile app lets you calculate gallons per acre at any speed. This way you can adjust it as needed.
Sprayers 101 - Sprayers 101 is an excellent source of information for broadcast spraying, band spraying, and directed spraying. With the nozzle size calculator, all you need to know is your desired application rate (gallons per acre), driving speed, and spray width per nozzle. Once you have entered this information, you can find the spray nozzle that best suits your need. The chart included will help you set the correct psi and ground speed to get your desired gallons per acre. It also indicates droplet size at different psi levels so you can make sure you are getting the coverage you need.
Iowa State University - This study conducted by Iowa state university was too interesting to leave out. This source will help you 'select the correct spray nozzle to reduce spray drift'. This information combines the importance of droplet size, pressure effects and nozzle types to arrive at an easy solution.
Each one of these sources provide unique information about choosing the right spray nozzles. With these useful tools at your fingertips, you can cut out the hassle and frustration of spraying calculations. Let the experts take care of it for you and you can spend more time spraying!