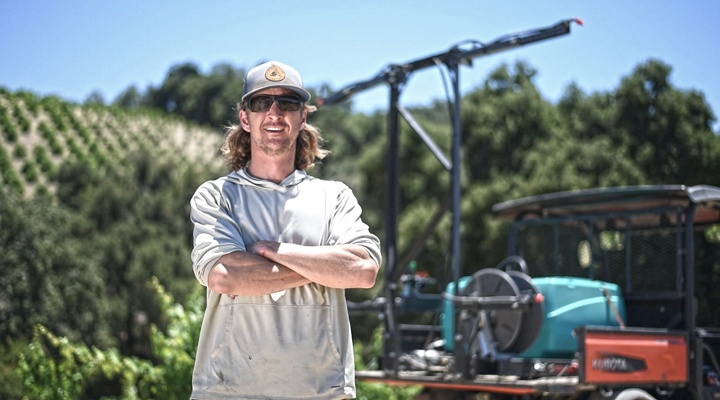 Established in the early 1990's, Tablas Creek Vineyard was one of the first wineries on the west side of Paso Robles, CA. Founded on values that date back generations, Tablas Creek became 'certified organic' in 2006. This was a major milestone in the vineyard's history, thanks to the help of Jordan Lonborg (the Viticulturist at Tablas Creek). After falling in love with agriculture at a young age, Jordan now spends his life directing spray programs to keep the grapes as healthy as possible.
Featuring: Jordan Lonborg from Paso Robles, CA
My name is Jordan Lonborg and I am the Viticulturalist for Tablas Creek Vineyard in Paso Robles, California. I grew up in a little beach town 30 miles south of Boston. I was just working on a little local farm up in Mendocino for one summer and I just fell in love with agriculture. At 25 I went back to school, I was really focused. I knew what I wanted. I wanted to be in some form of farming.
"I just fell in love with agriculture."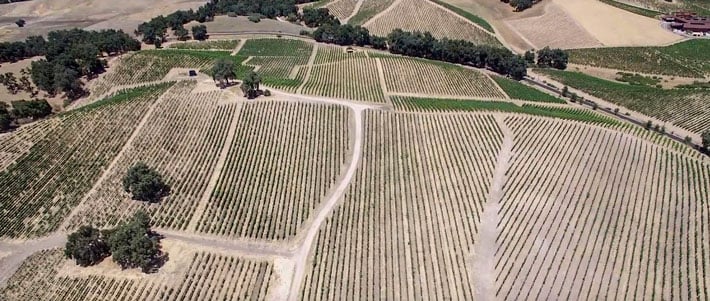 Tablas Creek Vineyard was established in the early 1990's. We were one of the first wineries on the west side of Paso Robles and it was a partnership between the Haas family of Vineyard Brands and the Perrin family of Chateau de Beaucastel.
Once the grapes are harvested, we'll go into the wine making process. When that wine is ready to be bottled, we'll start pumping into that bottling line. They put our product into the bottle, label it, put a cork in it or a screw cap on it (whatever the program is calling for). We've been certified organic since 2006 and we just got a Biodynamic® certification last year.
"Biodynamics; it's basically taking organic farming one step further."

As the viticulturist for Tablas Creek, it's my job to make this vineyard as healthy as possible. I'm responsible for coordinating spray programs, nutrition, and just maintaining the health and vigor of the vines. We were using 15-gallon sprayers that would hook-up to the front of our ATV, and it just wasn't enough. We weren't able to get the coverage that we needed in the amount of time we needed to cover. It was essential that we found something with a large enough tank that could give us a lot of ground to gain in a day. We found our Enduraplas sprayer on Enduraplas's website. We went to the "find a dealer" link and found Garton Tractor by Tulare, CA. They were awesome! They brought the sprayer out here for us and gave us a quick run-through on the set up, which was self-explanatory.
"Within three weeks, we had another one [Field Boss®] on the property."

We use two of the Field Boss® EcoLite sprayers, along with the ATV sprayer. Through our Biodynamic® certification, we would have to cover 106 acres fairly quickly in the course of a day or two. We were trying to find something that we could fit on the back of our UTV's and we came across Enduraplas.
"With these sprayers, it just makes the application so easy! We're definitely seeing an impact."

I like the fact that they sit on the back of a UTV, and for foliar applications like early season sprays, the feasibility of the unit is just unbelievable. Anyone can drive a UTV, you don't need to learn how to drive a tractor.
"The forklift option; it's easy to plop these things on and off your UTV and either start your day or end your day."

We're still exploring the possibilities of this sprayer and where it can take us. It's definitely made our job a lot easier. With that Enduraplas sprayer, the pump is more than adequate to penetrate the canopy. We get great coverage, and it's really allowed us to expand our Biodynamic® program, fully.
Related Content: Field Boss® UTV Sprayer
I trust you have found this post interesting. For more helpful info about sprayers and spraying, visit our YouTube channel or subscribe to our blog at the bottom of the page. To shop our variety of UTV sprayers, visit our website. You also can find your local dealer on our website.