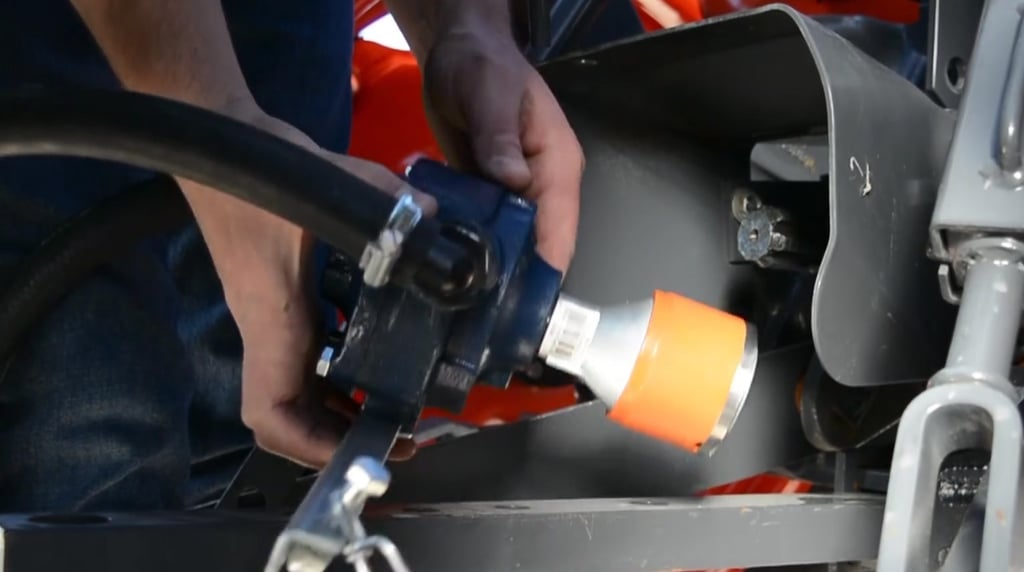 Hitching your 3 Point PTO sprayer to your tractor is simple when you follow the right process. This guide will show you how to quickly and safely complete this task without wasting time. Although the hitch or lift arms differ slightly with different brands of tractors, you will be able to follow this method. When connecting anything to a PTO shaft, it is important you take safety measures to eliminate any injuries.
Video: Watch the 3 Point Sprayer Hitching Process
To make this guide easy to follow, here is a video explaining the entire process. In this video, you will see how to complete each step. This demonstration is using a 100 Gallon Land Champ™ 3 point sprayer. The entire process took about 5 minutes.
Connecting Your 3 Point Sprayer in 5 Simple Steps:
Line up the Tractor and Sprayer - This is to make sure the lift arms are lowered to the height of the sprayer mounting points.
Hook up the Lift Arms - Once the arms are lined up, insert the hitch or lift pins through the tractor arms and lock them in with the lock pins.
Hook up the Top Link - Hook the top link to the 3rd mounting point on the sprayer and insert the lock pin.
Connect the Pump - Carefully connect the pump to the PTO shaft & hook on the torque chain to keep the pump from turning along with the PTO shaft.
Test the Connection - Using the hydraulics, lift your sprayer off the ground to insure it is secured properly. Make sure you also test the sprayer to see if the pump is pumping water correctly.
PTO Shaft: Safety Tips You Must Consider
When connecting and running your 3 point PTO sprayer, there are some safety tips you must be aware of. Here is a list of warnings that will help you stay free from injury.
Wear tight fitted clothing while connecting and disconnecting your sprayer.
Check to make sure all PTO shields and guards are in place when you are spraying.
Disengage the PTO, shut off the tractor, and remove the keys before connecting or disconnecting your PTO pump.
Do not reach over the back of the tractor to adjust the PTO or throttle.
Never step over a revolving PTO shaft even if shielded.
To view more safety tips when operating a PTO, view this helpful article written by the Carle Foundation Hospital.