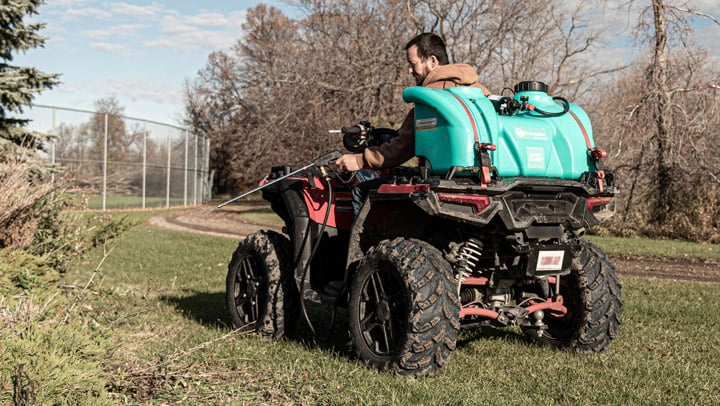 The Spot Chief® is the industry's first 12 volt spot sprayer that will last season after season. No sprayer is tougher. No sprayer will last longer. We are excited and proud to announce the much needed launch of this premium and affordable sprayer. The Spot Chief® comes standard with an industry-leading 10-year tank warranty and is only manufactured with quality parts and components. With durability at top-of-mind, this unit won't let you down.
"The market is currently flooded with economy sprayers that are built to only last one season, maybe two. At the end of the day, nobody wants to invest money into a product that will breakdown and fail soon after it is purchased," says Enduraplas CEO Greg Firth. "We've engineered the Spot Chief® the Enduraplas way. Higher quality raw materials, higher quality parts and components and most important of all, an easy-to-use design that you'll enjoy for many years to come."
Some reasons why the Spot Chief® is different from Economy Spot Sprayers?
Roto-molded tank - Stronger, more durable and lasts longer than regular blow-molded spot sprayer tanks.
10-year tank warranty - We back what we build. If you find a stronger tank with a better warranty, let us know.
Algae-resistant tank - When your tank is sitting in the sun, your water won't grow algae. Algae needs light to grow. Regular spot sprayer tanks are white which allows them to be see-through. These tanks grow algae and pollute chemicals.
High-quality parts & components - A better pump, a better hand wand and superior parts and components. We didn't sacrifice quality to save a few bucks.
There's more: See the complete Enduraplas Advantage by viewing the Spot Chief® product page
What We Heard from Customers and Why We Developed the Spot Chief®
At Enduraplas, we speak to thousands of farmers, landscapers and other customers that rely on our products every day. The number one message we heard was, "we are tired of purchasing economy sprayers that only last one season".
"This is the exact reason why we introduced the Spot Chief®! To support our customer base and help solve this issue, we've finally introduced the one-and-only premium and affordable 12 volt spot sprayer" says Enduraplas CEO Greg Firth.
Watch it Perform:
---
Related Links:
View the Spot Chief®: www.enduraplas.com/products/spot-chief/
Enduraplas website: www.enduraplas.com
Spraying training: blog.enduraplas.com/spraying