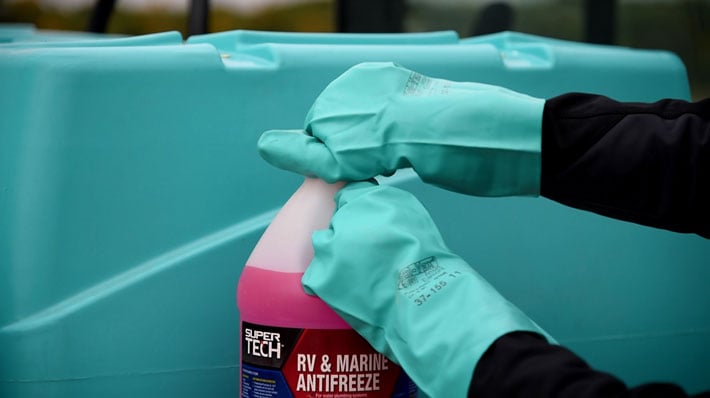 Cold weather can wreak havoc from an array of angles – none of which are ideal for anyone looking to travel, keep the power on, etc.
But it can also feast on your sprayer and your wallet if left unarmed.
Being prepared is a sound blueprint toward maintaining your sprayer's longevity and overall effectiveness. And in order to be prepared, winterizing your sprayer is an absolute must.
Let's breakdown the top 7 reasons why!
Related Content: How to Winterize Your Sprayer
1) Safeguard against cracks and other defects
Cracking is one of the most common consequences if you opt not to winterize your sprayer.
Engineer and spray technology expert, Erdal Ozkan, warns sprayer operators that fail to winterize can end up with pumps that develop cracks or other defects.
Solution: empty your sprayer completely – no liquids leftover heading into winter season! You'll want to also apply a small volume of oil or antifreeze with rust inhibitor to your sprayer parts.
2) Critters can – and will – destroy your sprayer… dirt, too
Insects and critters (birds) are gigantic nuisances with pretty much anything you're aiming to keep intact over time. And that's especially true when it comes to your sprayer.
Dirt and debris can also accumulate with your sprayer being stored away. These particles can interfere with your sprayer's performance.
Solution: winterize by covering any openings in your sprayer to prevent those pesky insects and other critters from setting up shop. That goes for warding off dirt as well.
3) Make sure your sprayer is working properly
Much like a car battery that's on its last legs heading into winter, cold weather will expedite its inoperability if left as-is. Same holds true for your sprayer.
Parts that tend to have deficiencies, whether minor or major, have shown that if not repaired before hibernation will cause further harm, resulting in issues that have a negative affect toward spraying (mechanics or execution) come springtime.
Solution: winterize by rehabilitating any parts and make sure your sprayer is fully operational, from applying herbicides to mechanical administration.
4) Store your sprayer in a secure area
On many occasions, folks have issues with their sprayer come springtime due to leaving it exposed to the winter elements. This can also be an issue during other portions of the year.
If left in an area that has a high volume of sunlight, it can compromise the condition of your hoses. If left in an area that has a high volume of moisture, it can leave the sprayer susceptible to rusting.
Solution: winterize by keeping your sprayer stowed away in a space that's shielded from inclement (snowy) weather and keep it guarded from sunlight, too.
5) Time management for spraying season
Spraying season offers no cushion when it comes to time. In fact, some consider it to be the biggest adversary when it comes to spraying season.
If your sprayer isn't raring to go come springtime – whether that be mechanically or conditionally – it can have a direct effect on your planned commencement or overall execution.
Solution: winterize your sprayer by inspecting it prior to putting it away. Simple enough, but it's overlooked quite often. This will help you preserve time waiting on repairs, arrival of parts, and inspections in general.
6) Money preservation
Tying into No. 3, if your sprayer is put in a position to where the winter weather will cause more damage to it, it spells costly fees to repair and/or replace.
To put it into perspective, Ag Decision Maker reports that effective machinery managers can lower machinery costs by up to $50 per acre through smart decision-making and safeguarding their investment.
Solution: winterizing by protecting your equipment illustrated in No. 3 and 4 is a proven way to help reduce the amount of money you would need to spend repairing and restoring when you resume operations.
7) Bolster your sprayer's resale or trade value
Regularly winterizing your sprayer is one of the best steps you can take to command an attractive sale price or trade-in value from an interested buyer.
If you winterize, and your sprayer is in a condition to where there's an opportunity to capitalize on a profit, why not, right?
Solution: well, winterizing your sprayer, of course. Also, be sure to document the measures you take to winterize your sprayer, as your record-keeping could prove to be helpful in negotiating a sale price or trade-in value.
The Bottom Line:
Winterizing your sprayer is an excellent way to ensure that your sprayer is primed to swing into action and handle your next peak season with minimal preparation.
By understanding the reasons why winterizing your sprayer is important, you can help prevent costly components, labor, and unplanned equipment breakdowns.
Happy winterizing!