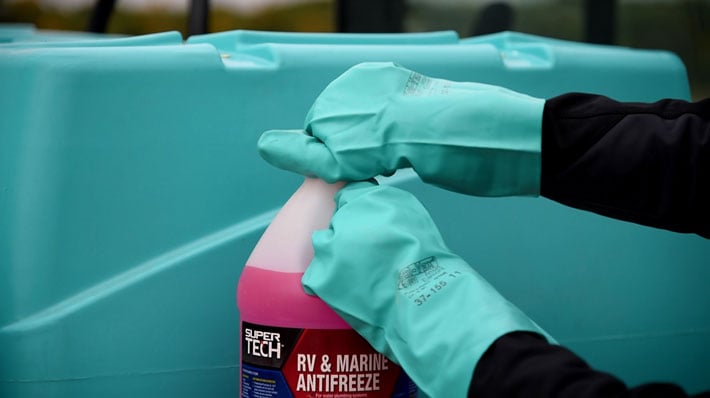 Winterizing your sprayer is one of the most effective ways to extend its life and ensure that you are ready to quickly resume productivity when spring arrives. Setting aside a few minutes to winterize your sprayer each year during late fall will make a huge difference. Taking this important step can help prevent cracking and other problems that will occur when you fail to properly prepare your sprayer to handle the colder temperatures. In this article, we're going to look at why you should always winterize your sprayer.
Related Content: How to Winterize Your Sprayer
Why Winterize Your Sprayer?
Frost, ice, and frigid temperatures can all wreak havoc on your sprayer, creating a host of problems when the time arises to get your sprayer ready for the spring season. Understanding the problems that can arise if you fail to winterize your sprayer is the first and most important step to take to protect your sprayer from costly damage. Here is a list of the top seven reasons why you should carve out time to winterize your sprayer.
1) Safeguard against cracks and other defects
Cracking is one of the most common consequences that can arise from failure to winterize your sprayer. Engineer and spray technology expert Erdal Ozkan warns sprayer operators that fail to winterize their sprayer can cause owners to end up with pumps that develop cracks or other defects. You can prevent freezing and cracking by making sure that your sprayer parts are completely free of liquid during winterization. You may also help avoid cracking by applying a small amount of oil or antifreeze with rust inhibitor to your sprayer parts.
2) Prevent insects and critters from destroying your sprayer
As part of the winterizing process, it is a good idea to cover any openings in your sprayer. This helps prevent birds, insects, and other critters from taking up residence in your sprayer and engaging in destructive behavior. Covering openings also helps keep your sprayer free of dirt, dust, and debris that can impede its performance.
3) Ensure that your sprayer works at full capacity
"Don't delay winterizing your sprayer — you don't want a pump that is...not working at its full capacity because it wasn't properly winterized before the temperatures fall below freezing...This can prevent planting delays in spring and prevent sprayer problems in the spring resulting in misapplications of herbicides."

- Erdal Ozkan, College of Food, Agricultural, and Environmental Sciences at The Ohio State University
Pro tip: Failure to winterize your sprayer can lead to inconsistent application of herbicides and other operational problems. These problems can impact the health of your crops and property, ultimately resulting in a negative impact on your bottom line.
4) Extend the life of your sprayer hoses and tires
One of the most important parts of winterizing your sprayer is to make sure that it is stored in a safe, secure area that is protected from the elements. Failure to take this step leaves your sprayer fully exposed to the elements during the winter months. Prolonged exposure to sunlight can compromise the condition of your hoses while exposure to moisture can lead to rusting and corrosion.
5) Save time preparing your sprayer for the next peak season
One of the most overlooked benefits of winterizing is the amount of time and effort saved as you prepare to reintroduce your sprayer to its regular season workload in the spring. When you have properly winterized your sprayer, you are able to resume operations more swiftly because there will be fewer maintenance issues to correct. You will spend less time waiting on repairs, arrival of parts, and equipment inspections. This ability to quickly achieve maximum productivity will help your bottom line and operational efficiency.
6) Avoid costly repairs and replacement parts
"Providing shelter, tools, and maintenance equipment for machinery will result in fewer repairs in the field and less deterioration of mechanical parts and appearance from weathering. That should produce greater reliability in the field and a higher trade-in value."

- Ag Decision Maker, Iowa State University
Winterizing is a proven way to help reduce the amount of money you will need to spend repairing and restoring your sprayer when you resume regular operations after the winter. For instance, Ag Decision Maker reports that effective machinery managers can lower machinery costs by up to $50 per acre through smart decision-making and safeguarding their investment. Winterizing is one of the best examples of a forward-thinking decision that can reduce the cost of owning a sprayer and other capital machinery.
7) Bolster your sprayer's resale or trade value
Regularly winterizing your sprayer is one of the best steps you can take to command an attractive sale price or trade-in value from an interested buyer. Be sure to document the measures you take to winterize your sprayer, as your record-keeping could prove to be helpful in negotiating a sale price or trade-in value.
The Bottom Line:
Winterizing your sprayer is an excellent way to ensure that your sprayer is primed to swing into action and handle your next peak season with minimal preparation. By understanding the reasons why winterizing your sprayer is important, you can help prevent costly components, labor, and unplanned equipment breakdowns.