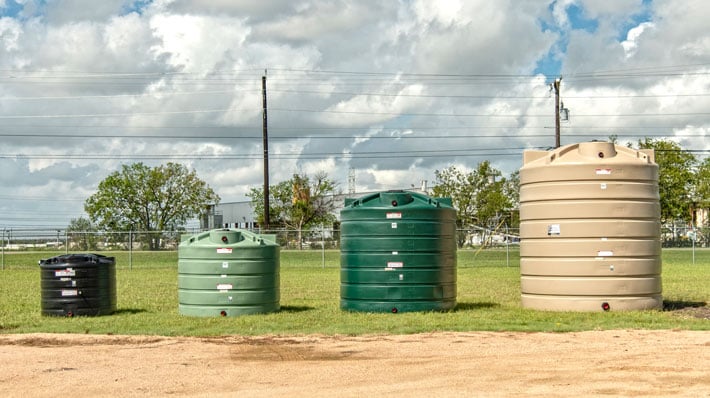 If it's worth getting set up to collect rainwater, it's worth storing your water safely. Whether you're using rainwater for drinking or just basic needs such as toilets, you need to keep it clean and ready to use when you need it. Below are a few points to help you be sure you are getting the best water storage tank solution for your rain collection system.
11 Must-Haves for a Water Storage Tank:
Here are the top features to look for in a rain collection and water storage tank. If these features become part of your rain collection system you will be all set to store clean water and keep it that way.
LIGHT-BLOCK™ Technology: Algae needs light to grow. This algae-resistant material keeps the sunlight out and the water pure.

STRONG-X™ Roof Design:

The beefed-up roof structure with molded-in truss-like supports eliminates collapsing in the heat of the day.





.

RIBBED-WALL™ Structure:

The ribs act like belts around the tank keeping it in shape. This reduces bulging.



Rotomolded Single Piece Construction: When cooked and cooled at an even rate, the raw material is bonded together to make this tank virtually indestructible.

Rotationally-molded

in a single mold means the tank is seamless, water-tight and leak-proof.



.

10-Year Warranty: Make sure your tank has a 10-year warranty. This is basic, but important. You want to be covered when storing the water, that you made the effort to collect.

ANCHOR-POINT™ Lugs:

Four hefty built-in lifting and tie-down points at each corner make it easy to handle.





.

Properly Certified: Make sure your water tank has proper NSF and ASTM certifications. If not, your water could become contaminated and un-usable.


COMPOUND COLOR™ Ingredients: Make sure your tank color is mixed with high density polyethylene using a high-pressure extrusion process. This provides the optimum color distribution to allow even lighter colors to stop light penetration. This process reduces the amount of color pigment making the poly stronger.


UV-PROTECT™ Exterior: This UV resistant material stops high rated sun-rays breaking down the tank side-walls.


FLAT-SPOT™ Dormer: Ensure that your tank is built with extra heavy-duty spots for plumbing extra tank fittings.



.

DRINK-SAFE™ Resin: Make sure the resin used to build your tank is FDA approved, so that the water safe to drink.


Related: Water Storage Tank vs 500 lb. Man
Collecting rainwater is an excellent idea and keeping your water clean makes the effort worthwhile. I trust you have found this buyer's guide beneficial to guide you in purchasing your water storage tank. To get a tank with all these features, click here to find your nearest Enduraplas dealer who can help you set up your rain harvesting system.
As we work together to live more sustain-ably we'll all be better off. If you'd like more knowledge on rain water harvesting, the Enduraplas YouTube channel has more info on this topic too. Otherwise, subscribe to our blog and we'll keep you up to date with rain water harvesting tips and tricks.