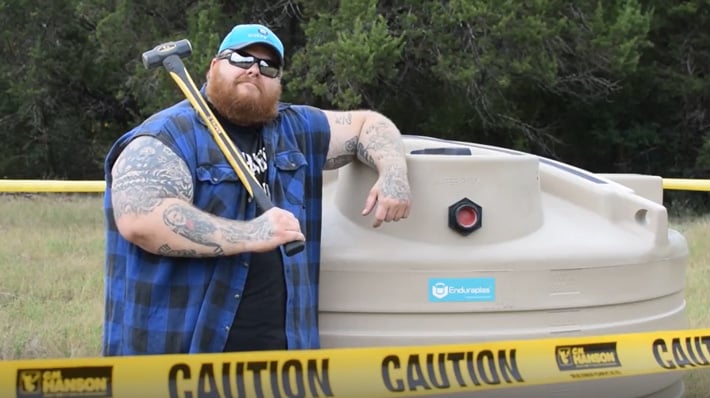 If you need a tank that's strong enough to store your water long-term without rusting, malfunctioning, or growing algae, you're in luck. We put our line of above-ground water storage tanks to the test, ensuring it's durable enough to handle anything you throw at it. Keep reading to see how we did it.
To prove our storage tanks' intelligent design and impressive durability, we invited Big Bald Mike, a 500 lb former strongman competitor, and competitive arm wrestler, to test our water storage tank.


The Sledgehammer Test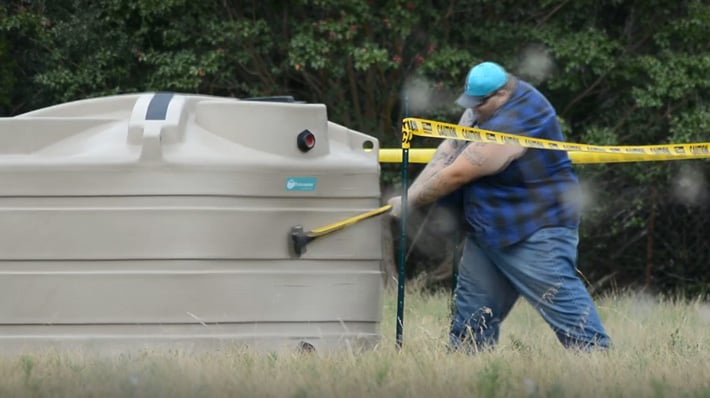 Unlike smooth-wall water tanks, our one-of-a-kind structure is engineered with a trusted Ribbed-Wall™ design. These ribs act like belts around the tank, keeping it in shape and reducing tank bulging and malfunctioning.

Wielding a metal sledgehammer, Big Bald Mike pounded the side of our water storage tank with over 600N of force. With Mike swinging a heavy sledgehammer with all his might, our Ribbed-Wall™ design bounced back instantly to its original shape, not even leaving a dent.

The Roof Test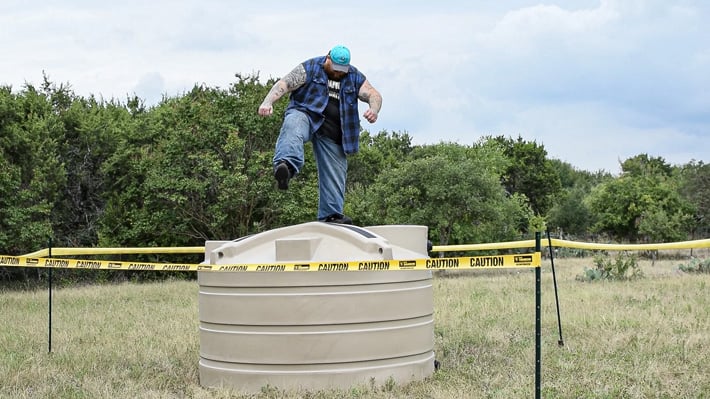 Our tank's extra strong sidewalls have also allowed our engineers to beef up the roof to eliminate collapsing, even in the harshest weather conditions. Mike jumped on top of our water storage tank to try to cave in the roof.

However, our Strong-X Roof Structure™ has molded-in truss-like support engineered by construction professionals. Meaning our water tanks can support everything from Big Bald Mike to an angry bull stampede, ensuring your liquid investments are safe.




Our tanks are rotationally molded in a single mold to ensure it's seamless, water-tight, and leak-proof. When cooked and cooled at an even rate, our FDA-approved polyethylene plastic resin bonds together to make our tanks virtually indestructible.

Our durability tests aren't just for show; we truly stand by our product's durability. That's why all our liquid storage tanks come with a 10-year warranty, the most extended warranty in the industry.

Enduraplas water storage tanks allow you to get the most out of them so your liquids can stand the test of time. We don't just engineer for ease of use and reliability, we engineer for endurance. Don't know where to start when buying a water tank? Don't worry, we've created a comprehensive buyer's guide to buying the perfect water storage tank for your needs.