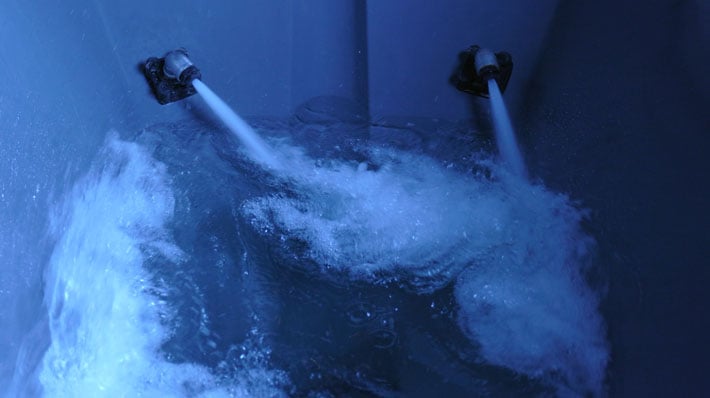 There are several variables that go into successfully using liquid brine for deicing. Knowing what to add to your brine, and when to use brine is important for a successful deicing. Charles Glossop, a certified snow professional based out of Minnesota, shares his expertise on applying brine and charging for your brine services.
Should I Use Additives in My Liquid Brine?

Sticking with a brine calcium mix is the simplest way to start using liquid brine. Many contractors are using that, and you can get the totes of that product.
We've got proven results with brine and 32-cut calcium. We've tried other products, but we've been extremely comfortable with the results we get with liquid brine. That doesn't mean we won't find new additives later, but we feel that we've got a solid template right now.
You'll get down to about 15° Fahrenheit with straight liquid brine. However, for anything below that, we add calcium and immediately go to an 80/20 blend. That's 80% brine at 23.3% salinity. We then add 20% of 32-cut calcium to that mixture. That's our 20% mixture. That mixture will get you down to -5° Fahrenheit. However, you're pushing the envelope once you get to -15° Fahrenheit.
'IF YOU WANT TO GET STARTED IN LIQUID BRINE, YOU JUST HAVE TO JUMP IN AND DO IT. ONCE YOU START USING IT AND SEE THE BENEFITS, YOU'LL NEVER GO BACK, AND THERE IS NO DOUBT ABOUT THAT"
To offer a word of advice for using brine: consistency is key. Don't pick and choose your snow events, do them all every time. Every time you go out to de-ice, you're fine-tuning your process and getting better and better as you do it. You're also putting down the product on the lot, and you get some residual effect. So you can de-ice an entire area, and you'll still have a little product left going into the next time, and when you do it again the next time, it just adds to that product.
We've had instances where we've pre-treated an area that never snowed. We've had to wait five to seven more days and still had a product that's worked even after seven to ten days. It's not as active as 36 to 72 hours, but we've still seen the results.


Do You Change The Blend of Brine from Sidewalks to Parking Lots?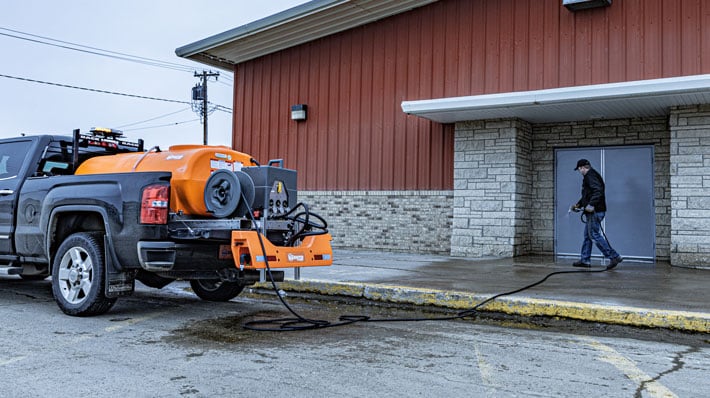 When it comes to using liquid de-icing brine in multiple areas, It's all the same blend. Brine is based on pavement temperature. You can't base liquid applications on air temperature; it's all about pavement temperature because there is a variable.
Sidewalks are usually concrete and a little colder, so we'll just blend for the sidewalk so it's easier for the workers applying the brine. They don't have to think about what product they need to use or how to use it. We figure that out so they can just go down and apply it.
However, we do blend for the event. No two snow events are similar. So we could do a 70 - 30 blend tonight if we're going to get down to -10° Fahrenheit. We could go out at 30° Fahrenheit in a week and do a straight brine application. So there is that understanding when it comes to being in the industry.


What Type of Salt Should I Use to Make Brine?
When finding a salt to make liquid brine, we use a high-quality chloride road salt. We ensure that the salt we run for our brine maker is clean and clear and doesn't have a lot of impurities.
We have run a lot of impurities at one time or another, but it ultimately depends on where you buy and what mines the salt comes from. If we run a dirtier salt through our brine maker, we have to clean the equipment more often to keep everything up and running.
While a brine maker can make things easier, cleaning and servicing your equipment regularly is essential.