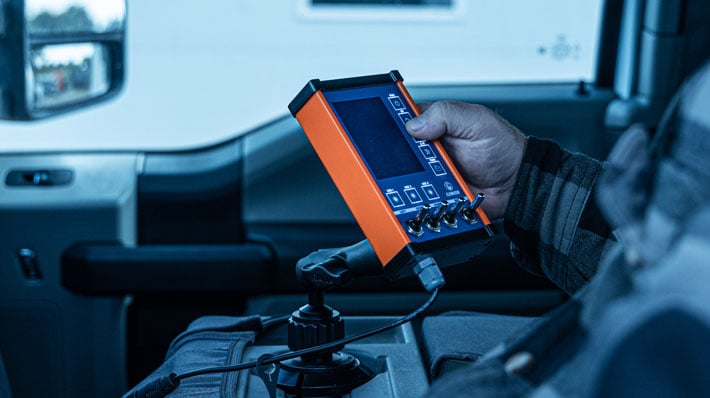 No two snow events are the same, so your liquid brine application needs to be adaptable. Getting your brine application to a standard that works for you requires a lot of trial and error that can consume precious time. Charles Glossop, a certified snow professional based out of Minnesota, shares his expertise on applying brine and charging for your brine services.
How to Apply Liquid Brine
I'm Charles Glossop, and I'm a certified snow professional. I own and operate Hantho Outdoor Services with my son Alex.
At Hantho Outdoor Services, we use between 42 and 45 gallons per lane mile. A lane mile is approximately one acre plus or minus a few thousand square feet. When we go into a facility, we're putting down about a 12 to 13 foot band of liquid brine. On sidewalks, we use about 1.5 gallons per thousand square feet.
To pre-treat sidewalks, you could take an old sprayer unit and measure off a gallon and a half to a thousand square feet of sidewalks to ensure you've got the right volume. That's an easy way to calibrate and a great way to get started spraying liquid brine.
However, suppose you're using a summer spray unit in the winter to spray liquid brine. In that case, you're probably going to have to replace the pump unit going into the following summer because of the application of chlorides in that pump. A very inexpensive way to get started would be to use a spray gun with a lawn garden hose. Once you've done that, you're in the brine application business.
"AS A PARTICIPANT IN THE BRINE APPLICATION BUSINESS WE MUST REDUCE THE AMOUNT OF SALT WE USE. THE EPA WILL EVENTUALLY STEP IN DUE TO THE ENVIRONMENTAL IMPACT THAT SALT GRANULES HAVE ON THE ENVIRONMENT"
How to Charge for Liquid Brine

There are a couple of different ways to charge for liquid brine. When we look at a contract, we consider a few factors. If it's a seasonal contract, we'll build that into our cost of doing business because we know what the savings will be.
We know we will not have to run over that same pavement six times to get down to do a clear plow. We can run over it once with the right quality equipment on our wheel loaders, plow trucks, or skid loaders.
If we're applying brine at 23.3% at 16°- 32° Fahrenheit, it's probably going to be $4.50 to $5.00 a gallon. If we start taking calcium to the eutopic rate of a meltdown to 5° - 10° Fahrenheit on sidewalks or pavements, we use 32% cut calcium to increase the non-freeze point of the brine.
We're being proactive instead of reactive. Say we got a quarter inch of snow, we have a product that's already working, and we're not scrambling to get out to the site to clear the ice right away, especially in rush hour conditions.
"WE PRE-TREAT WITH LIQUID BRINE EVEN IF OUR CLIENTS DON'T ASK FOR IT BECAUSE IT BEHOOVES US TO DO SO"
When we first started using brine and pre-treating, our clients didn't necessarily know what we were doing. We would go out to pre-treat and then show them the results. So we would show them an area where we did pre-treat, and we'd show them an area that wasn't pre-treated, and our clients would say, "Wow!"
The important part is that you've got a lot of Departments of Transportation and counties doing a lot of pre-treating. So people are now used to seeing those stripes through the parking lot, roads, and streets as a proactive method.
As snowfighters, it's our job to find new and innovative ways to clear snow and ice and keep people safe. When it comes to charging for winter maintenance services, think critically about being fairly compensated for your work.