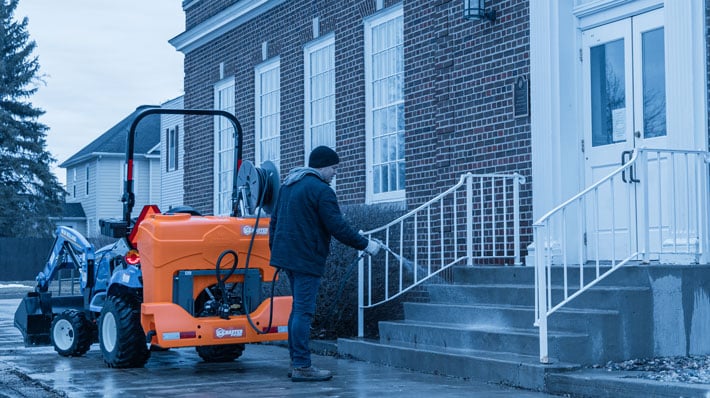 Deicing can be confusing. Whether you're in the outdoor service industry, a first responder, or just trying to fight the snow, it can be challenging to know where to start. While using salt granules as a method to prevent snow and ice is popular, liquid-based salt brine is your safest bet for the best results. Charles Glossop, a certified snow professional based out of Minnesota, shares his expertise on how to get started using liquid brine and the savings you'll experience.
Getting Started Using Liquid Brine

A great way to start using liquid brine is to begin with sidewalks. It's a small investment. Small spray units can fill up with five to seven gallons of brine. A great way to learn is to use the brine on sidewalks and monitor it. You have minimal investment; if it works for you, then take the next step and start using liquid brine on a bigger surface, like parking lots.
I remember 35 years ago, we had a salt truck, and the salter broke down with an incoming ice storm on the way. We had to put the truck in low range, tie the steering wheel, and jump in the back. We salted about two to three acres of parking lot, shoveling it out of the back of the truck. That's what we did 35 years ago when our equipment broke down. However, today we have sophisticated equipment for applying salt in parking lots.
"THE WAY TO GET STARTED USING LIQUID BRINE IS TO START SMALL. TRY IT, AND IF IT DOESN'T WORK, YOU HAVEN'T LOST ANY INVESTMENT."
Another great way to start using liquid brine is to network before you make any purchases. People who want to get in and start using liquid brine need to start talking to those who use liquid brine. Ask what we've experienced and what we've gone through.
There are a lot of contractors in the marketplace that make their own liquid. If you're looking to get into liquid brine, reach out to one of them. They're probably more than likely to help you and sell you a product you can get into.
Alex and I often take questions from people around the country on how to get started using liquid brine. You can get started very inexpensively.
"YOU JUST NEED TO MAKE THE DECISION THAT YOU ARE GOING TO USE LIQUIDS. AND IF YOU MAKE THAT DECISION, I'LL GUARANTEE YOU'LL NEVER TURN BACK."

How Can Liquid Brine Save You Money?

One major saving we get with pre-treating the pavement is that we don't have to run over the same surface multiple times with a blade or even a broom because, after the pre-treat, you're getting down to the pavement surface right away. Instead of using five to seven hundred pounds of salt per acre, you're going to use around 200 to 250 pounds because you're not trying to melt a lot of ice or snow compacted to the pavement or sidewalk. So that is a huge saving.
When you don't pre-treat, you'll likely use 500 pounds of salt per acre, effectively only treating four acres with one ton. However, pre-treating with one ton of salt will treat eight acres. You are effectively using 250 pounds an acre instead of 500 pounds an acre. So you save on salt, equipment, and labor cost.
"WE'RE BEING PROACTIVE INSTEAD OF REACTIVE FOR AN EVENT."
The other aspect of that is less salt on sidewalks, therefore, leads to less tracking of granular salt into the buildings, so the property management companies see less cleaning costs. So it's not just on our end, but also our clients. Because we are managing the storm event, we can let our clients know what we're doing and that we will be going out to pre-treat. Our clients have the comfort of knowing that we're on top of the storm.
While rock salt is still one of the most popular methods to pre-treat and de-ice for snow and ice management, brine's impact cannot be understated. Brine has the potential to save you time, money and manpower for your
snowfighting arsenal
.