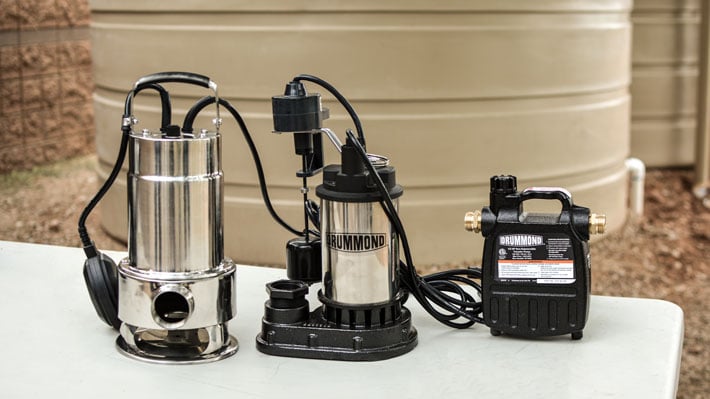 Are you confused about which pump is the best to use with your water storage tank? In this post we're going to look at different kinds of pumps, how they work, and what advantages each type has so you can learn how to choose a pump for your rain harvesting system.
I'm a strong believer in using pumps for your water storage tank or rain harvesting system. And the reason why, is that if the water is easier to use, you will use it more often. So, knowing that pumps are important, let's look at the following points.
Budget
So, when we hear the common question of "What kind of pump should I use for my rainwater harvesting system?", I'd say the first thing you want to look at is "How much money do I want to spend?", because there are a range of different pumps with different price points.
First there are economical pumps (we'll call them "transfer pumps") that are less expensive but less convenient to use. Then there are higher end "on demand" pumps that are more expensive but convenient to use. Let's look at how each type of pump works and the benefits of each.
Pump Type
On Demand Pumps
This type of pump pressurizes the water to a faucet or to an irrigation system and they are always pressurized. They have built-in sensors that detect when the pressure drops, and the pump will kick on automatically. If you want a pump that is on all the time and you don't have to worry about messing with an electrical outlet by flipping the switch, these higher end pumps stay on and pressurize the water all the time so you would probably be best to invest one of these. You can walk up to your faucet, turn it on, and boom you've got instant pressurized rainwater.
Transfer Pumps
This type of pump, you plug in when you need to use it and it then pressurizes the water. You cannot let these pumps run constantly. For example, if you are using a hose nozzle with these pumps, you cannot stop the flow of water (turning off the hose) and let the pump keep running. The pump must have water going through it while it is running, or it will overheat. If you want something simple, where you just flip a switch and when you're done using water you can just flip the pump off, then a lower cost economical pump would be a good one to choose.
Submergible & External Pumps
Both types of pumps (transfer or on-demand) can be a submergible or external pump. It just depends on the design of the specific pump. Submergible pumps will be located inside your storage tank and external pumps will be located outside of the tank (likely near the electrical outlet). A benefit of submergible pumps is that some of them come with a water level indicator that will automatically shut the pump off when the water gets too low. One other factor is that they are hidden from sight. With an external pump you will have to hide it in a hole or under a cover if you are concerned about looks.
PRO TIP: If your pump is located outside the tank (not submerged), you must drain the pump (winterize it) before winter, so it does not freeze and get ruined.
Flow Rate, Pressure, and Electricity
You will want to know what flow rate and pressure your system will require, as well as what electrical power you have available (as some types of pumps require higher voltage power). To determine your flow rate, you will need to consider what you are using your water for (i.e. a toilet will require approx. 1.6 gallons per flush and a garden hose will require approx. 2-4 gallons per minute). When considering your pressure, you will need to take into account where your pump is located and how your system is set up (i.e. if you are pumping from underground to a few floors above ground it will need more pressure than a standard "ground level" system).
Choosing Your Pump: 6 Quick Steps
Know your budget (how much are you willing to spend?)

Decide whether you want a transfer pump or on-demand pump

Decide if you want a submergible (located inside the tank) or an external pump

Consider what flow rate (GPM) you will need

Consider how much pressure you need

Take note of what electrical power you have available
RELATED: Browse algae resistant water storage tanks that have a 10-year warranty!
Some Pumps you May Consider
I hope this has given you some understanding of how to choose the correct pump for your rainwater harvesting system. If you would like more info about water storage and rain harvesting, we invite you to subscribe to our newsletter. If you are currently setting up your rain collection system and are interested in premium algae resistant water tanks, you can check them out here.