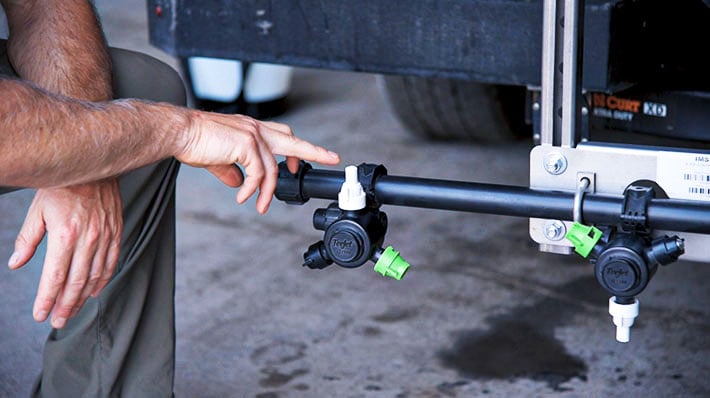 Now that you understand how liquid brine will benefit the environment and the economy, you may be wondering if there is a correct way to apply the liquid brine to achieve the best results. In this post, Phill Sexton with WIT Advisers will go over spraying techniques for liquid brine and nozzle usage.
Using TeeJet Nozzles Effectively
Let's talk a little bit about techniques. What's pretty nifty about this particular unit is that there are options and that's ultimately what you want. So preventing the bond is the goal and we do that through a method called anti-icing. There's a couple ways we can do it with this particular unit.
Using The White Nozzle
We have it on the white nozzle. You'll see there's actually three outlets in this tip. The white nozzle is the one I'd use to have a spray that's split into three sections. That's going to give me the most coverage in a pre-storm application without too much volume coming out. It's going to help me save material and give me more even coverage. I'd want to use this this nozzle if I've got say, 24 hours before the storm or sometime well before the storm where I'm going to put an application of brine down and let that dry on the surface.
Using the Black Nozzle
Say I'm in a situation where I want to get the brine down quicker as a direct liquid application just before accumulation is going to start; this could even be an hour before the storm. That's when I want to switch to this pencil tip option. So you'll see that this is just one outlet/stream. But I am going to get very concentrated volume in one stream and that's going to look similar to what you see on the highway systems now for the DOT's that are using that where you see lines on the road.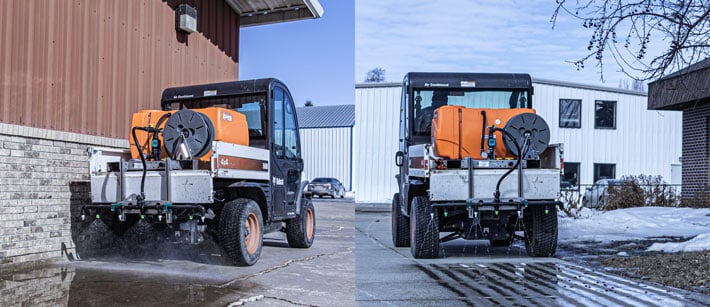 Using the Green Nozzle
Then I have this third option which is really nifty. So rather than having to switch out nozzles I can just turn to it. The green nozzle is a fan tip. This is the option I want to use as a post storm or post plow application. So once I've cleared that snow (using the anti-icing method before) it gives me a clean scrape; I just want to be able to put down another light application of brine to keep that continuous brine reaction going.
This is what I want to use. Think about this; people don't slip on snow. They slip on ice or they slip on the conditions we cause when we clear the snow off. Even after I anti-ice there is a chance there's going to be some sort of a glaze, just a very light glaze that may occur. This will help you react to that almost immediately versus if you put down a dry salt application on top of this. Not only are you using a heck of a lot more salt, but that still has to react to moisture. So you're still waiting 30-45 minutes maybe even longer before it addresses that glaze. This will literally burn it off instantly, using less salt.
I hope this post has helped you understand how to utilize different nozzles to ensure a safe and effective de-icing operation. To shop our variety of liquid brine sprayers, visit our website. If you have any questions, feel free to comment below and we'll get back to you.
Interested in more FREE TRAINING? Here are links to the complete course:
Why is Using Liquid Brine Important? [1 of 10]
Environmental Benefits of Liquid Brine [2 of 10]
Economical Benefits of Liquid Brine [3 of 10]
Level of Service Benefits of Liquid Brine [4 of 10]
Rock Salt vs Liquid Brine [5 of 10]
Preventing the Bond of Snow & Ice with Liquid Brine [6 of 10]
What are the Barriers of Switching to Liquid Brine Deicing? [7 of 10]
Why Aren't More Clients Asking for a Liquids Approach? [8 of 10]
How do we Make the Change to Liquids? [9 of 10]
Liquid Brine Spraying Techniques [10 of 10]